[iN Search: We are different #3 ]
My name is Leon, I am a student at College of Management in Yuan Ze University. I am highly interested in executive search, so I decided to take serval courses about human resource to build up more knowledge of recruitment. After taking those courses, I am certain that I want to do a master's degree in human resources management in the future. Since graduation is imminent, I applied for many internship vacancies and received many interview invitations soon. Although iN Search Management Consultants Co., Ltd. was my last interview, I did not pass it over because I know each interview means a learning opportunity and that is a precious experience.
Due to the previous experience, I was no longer nervous and anxious when I was having interview with iN Search. The whole interview went smoothly, just like having a sharing section with people who are really willing to listen and share, but still professional. I explained my motivation and the interviewer clearly described iN Search's vision and development. The communication was smooth and effective, which let us leave a good impression on each other.
I have to say iN Search is incomparable. Different from other interviews, it was not like a one-on-one interview, but it focused on taking care of the feelings of the interviewee. They cared about commuting because they afraid it would be too far for me. Plus, they advise me on future career path and provide suggestions for my life planning. The whole process has benefited me a lot. I applied for an internship, and companies would assess my abilities and evaluate what I could benefit the company. However, at the same time I also screened companies; I only looked for a company that could help me grow and advance my skills sophisticatedly. These are the reasons that led me to choose to do my internship at iN Search.
iN Search is a start-up company and the director is a very open-minded and far-sighted leader. Consultants were willing to teach me, sharing their experiences with me, and guiding me. I got along with everyone, I quickly integrated into the team and my performance was getting better day after day.
We had meetings every Monday and I was never excluded because I was an intern. In meetings, I learned many industrial trends and the director was like a professor, he taught us how to conduct a job market analysis and the supply and demand trends for various positions. This experience not only increased my practical ability but also expanded my horizons. At iN Search, I was learning and gain more knowledge every single moment. Although the internship only lasted six months, I did pick up many skills.
At school, professors painstakingly explain theories and objectively analyze the causes of the formation of the theories, their limitations, and how to apply them to situations. For example, the rule of putting the right person in the right place, as it clearly suggests, putting the right talents in the right positions can yield the best results. The idea is simple and easy to understand, but how to find the right talent, who is the most suitable talent, and what should I do to persuade the most suitable talent to quit his/her current job were not explained in detail. Thus, it is important to try to apply theories to real cases and observe the results. I have learned a complete recruitment process at iN Search. For instance, when I get a case from a hiring company, I must first study the industry, the hiring company, and the position. I also need to pay attention to domestic and international industrial news because the information may be closely related to the future career development of the candidates. The competitive analysis of the hiring company is crucial as well as understanding their competitive advantages, how many international patents it has, and whether its financial status is stable, the market reaction of its new products, and so on. I must complete my study and research in advance because candidates with higher positions concern a lot more about the professionalism of consultants. I must first respect candidates, their time and career plans, and then I will be respected.
In the classroom, professors explained many human resources management concepts, theories, and cases analyses. During the internship, I was shocked to find out that many times it is impossible to simply implement the theories realistically because situations constantly change, candidates and recruiting companies also constantly update ideas, job descriptions, and requirements.
Through the experience, I realized that it is crucial to keep learning and improving so that I can stand out in this rapid-paced, ever-changing industry.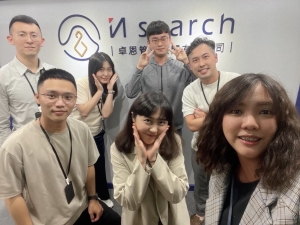 https://insearchmgt.com/wp-content/uploads/2022/08/S__37396515.jpg
1108
1478
INSEARCH
/wp-content/uploads/2023/05/logo_0512.svg
INSEARCH
2022-08-18 10:00:33
2022-08-18 15:59:39
[iN Search: We are different #3 ]